Japan is a country of green forest with wonderful nature as well as a country of ocean. Surrounded by nature, we receive plentiful blessings. Because forest generates water and oxygen, ocean can receive the water through river, which contains a lot of blessings from nature. Being a fishery enterprise, it is not too much to say that we IYOSUI can continue to exist by relishing the richness of ocean through forest and earth itself. We believe associating us with nature that gives us the energy of life and thinking what each of us can do as an individual for the continuous blessings of the rich forest are the great responsibility for us as a company.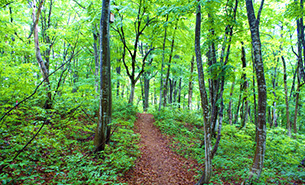 Forest maintenance activity
As we think the restoration of mountains by forest maintenance activity contributes to the environment of ocean, we are supporting a movement for promoting "Grow forest for ocean". Specifically we plant deciduous trees and hold a maintenance activity for those.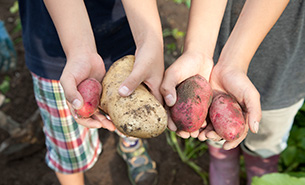 Invitation to digging potatoes
We utilize the field next to our building to cultivate potatoes. During a harvest season, we invite the children in local foster home to enjoy digging and eating the seasonal fresh potatoes.