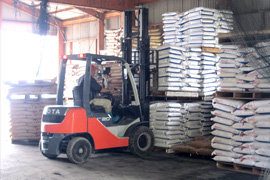 Fish formula feed is an extremely important element to produce safe and secure, sound and high-quality fish sustainably. The moistened pellets are in-house manufactured and formulated according to the season, type of fish, and also shipment. We cooperate with the manufacturer to develop productively efficient formula feed considering environment and safety of the raw materials used.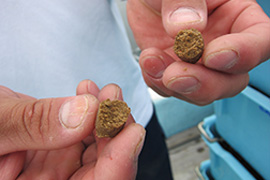 Frozen live baits are from the choicest producing area and they are inspected periodically in the inspection body. We make it possible to produce "Always Seasonal" farmed fish throughout the year by utilizing these feed properly.
Feed indeed is the biggest cost in fish farming industry while it drives the security and flavor consumers demand, supplies the possible future shortage, and realizes the sustainable fish farming. Always thinking from a customer's point of view, we strive for a valuable development of feed based on farming process of making fish using fish and being ecological considering environment.
We have partnerships with the following feed manufacturers :

Skretting Co., Ltd./Nosan Corporation/Nichiwa Sangyo Co., Ltd./Nichimo Mariculture Co., Ltd.
To challenge for a high quality fish farming
We blend Japanese sandlance (Sand eel), crustacean, and seaweeds to produce the core ingredient used for our in-house IYOSUI moistened pellets. This special ingredient makes IYOSUI greatly different from other competitors. Wild sea bream are found on the bottom of the ocean. (That is why they are such beautiful red colored; due to the fact sunlight doesn't reach them keeping them from ultraviolet ray burning them.) They become black-striped by eating live feed.
Since Japanese anchovy floats on the surface, a wild sea bream never happens to eat those anchovies. (Sea bream favors to eat fish which lives on the bottom of the ocean and clams as well as shrimps and crabs.)
Thus, we at IYOSUI produce the baits as natural as possible according to the ecology of the fish.