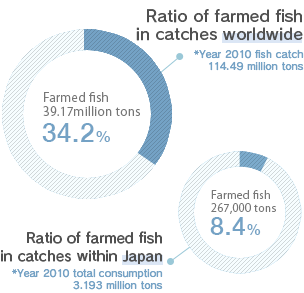 Farmed fish occupies 34.2% (*1) of world fish catch, which represents 39174297 tons out of 114493309 tons in total. However, it is merely 8.4% (*2) in ratio to Japan domestic fish catch. Out of total fish catch in Japan which is 3193410 tons, only 267800 tons come from fish farming.
Nevertheless, it is most likely that farming fish ratio in Japan will be catching up with the world standard in near future considering food self-sufficiency rate, shrinkage of domestic market, and limited natural resources.
It is our mission to deliver seasonal tasty fish to you safely, securely, and stably through farming fish. We see it as our business theme as well as our goal to shape the future of new diet.
References:

*1

: FAO, FAO Yearbook: Fishery and Aquaculture Statistics 2010

*2

: Ministry of Agriculture, Forestry and Fisheries: Table on demand and supply of food (2010)

As the world population increases, it raises a problem of food shortage in the future. It is a great risk to continue to catch wild fish, which will lead to the exhaustion of natural resources when we must think about the long sustainable future of our society. Also, we believe farming fish with the wild fish as a bait not only lacks the economic efficiency but goes against ecological spirit.
Fish farming industry which efficiently produces protein as well as seasonal tasty fish has great potential to solve the food shortage problem that might happen in the future.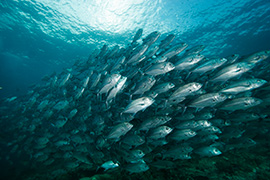 Over years of study and research, we have developed the farming technology to cultivate fish in the way so that there is hardly any difference between farmed fish and wild fish, or farmed fish could have even better quality than the wild fish. Our fish has been farmed in a blessed marine environment with the selected feed and that makes it possible for us to serve fish at any time in the condition closest to be seasonally fresh. Farming fish, we believe, plays a significant role in safety and security of diet in this digital era where humans can control the environment of cultivating fish including how to fertilize and develop it and where we can easily digitalize the history of farming process itself.