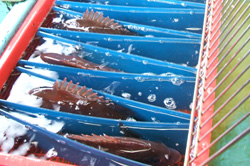 Because IYOSUI was established based on the separation from marine transport business for fresh fish, our transport handling skills and mobility on both land and Sea are well known in this industry. Being a bridge between producing area and consuming area, overseas and in Japan, we deliver our product for versatile purposes such as for eating, farming, aquarium, and the leisure industry, sustaining its vitality. There are different degrees of difficulty in handling fresh products depending on what kind of items and what they are used for; furthermore, high technical skill might be required in the time of a particular season and during transportation.
We handle the following :

Red seabream, Greater amberjack, Yellowtail, Striped jack, Globefish, Sea bass, Olive flounder, Greenling, Grouper, Scallop, Abalone, dagger-tooth pike conger, Conger eel, Crab, Horse mackerel, Mackerel, Filefish, Tuna, Sardine, and more.
*We can offer seasonal products, wild fishery products, and so on depending upon request.
"Moving Aquarium" delivers fresh fish alive to anywhere within Japan and to the world.
Our sales to both domestic and overseas are firmly established in a consistent manner from fry to adult fish via our network with fish producers. According to the requests from customers, we sell not only famed fish but wild fish which we buy in from domestic or foreign suppliers. Making the most out of domestic or foreign industry information besides marketing network and live fish transportation capacity, we are dedicated to deliver fresh fish by selecting only high-quality ones at all times.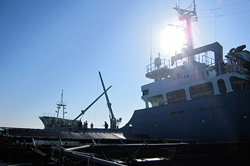 From small fish to big fish (e.g., from sardine to tuna), we contribute to the industry development and cost effectiveness by using the transportation technology and mass transportation which emphasizes the quality and freshness of the products. Our long-time partner, Sumihomaru Live fish Transportation Corporation, is one of the leading companies in the industry with over 30 years of outstanding expertise in live fish transportation and associated technologies.

With the latest special equipment which makes it possible to adjust the water temperature without affecting the salt density, we transport long distance such as to Korea and China, and also fishery products that can be transported only in low water temperature like crab and scallop as well as domestic transportation of famed fish.
IYOSUI has been highly recognized in the industry for its transportation capacity and effective performance.