In this department, we are handling fresh, frozen, and processed fish.
Fresh fish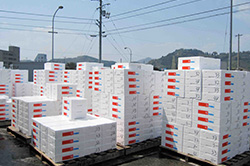 Freshness is a very important element being a standard of value in fishery products. Therefore, we pay detailed and careful attention to maintain the freshness of the products. To be concrete, after killing a fish, we soak the fish in iced seawater and drain the blood out from the fish so that it makes it harder to lose the freshness cleaning out its smell as well.
Ehime being the biggest fish farming area in Japan, we handle each fishery product with great care keeping the freshness at the best to deliver delightful seafood to your table.
We handle the following :

Yellowtail, Red seabream, Greater amberjack, Striped jack, Sea bass, Olive flounder, Grouper, and more.
Processing
We process dried fish, fresh fish, and frozen fish.
We handle the following :

Fresh and frozen processed: e.g., Yellowtail, Globe fish, Greater amberjack, Read seabream, Olive flounder, dagger-tooth pike conger,and more.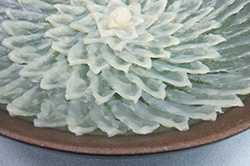 Fish we sell within or outside Japan is processed in our HACCP certified processing plant. Our factory is located in the largest farming area in Japan and right next to the landing area. As soon as fish is carried in, they get preserved in the marine fish tank next to the factory and so we can process the fish alive in real time.
We carefully select the raw materials and develop the products from a customer's view point, for all the customers to fully enjoy the delightful taste itself as well as the value of the product that directly come from our processing plant,"ふたな-FUTANA-". To ensure the quality of food including the safety and security, all of our food products are processed through food security management system based on HACCP system.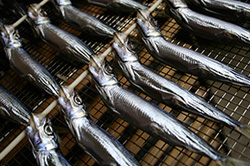 Dried fish

These fresh round herrings are caught in the early morning in the Uwakai Sea, pickled in the wild salt, and dried at low temperature by globe fish expert. Absolutely no food additives are used and raw materials contain only the ones that are extremely fresh and rich in quality. As a result of thorough selections and drying during production process, we are able to yield a product that has a high reputation for its being exceptionally rich in shininess and flavor.
Saikyou-zuke (Fish pickled in sweet Kyoto-style miso)
(e.g., Sea bream, Yellowtail, Striped jack, Greater amberjack, Sea bass, and more.)

Saikyou-zuke is shipped as an ingredient for hotel related business and schools, and also for gift purposes. Each one of them is a fine masterpiece with exceptional flavor neither compromised in its material nor preparation method.
Products sold for overseas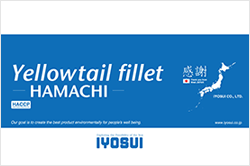 Yellowtail

Our yellowtails are carefully selected in accordance with our company quality standards, which allows us to be sure of their freshness and quality standards even after processing.
Also, our facility has been certified with HACCP and therefore all the products shipped within Japan and abroad meet the quality control standard by FDA (Food and Drug Administration).
Regarding Yellowtail, we manage the entire process from the purchase of seeds and seedling, feed supply, to the transportation of adult fish to guarantee a safe and secure delivery of fish.
Out processing plant was built on March 2011. It mainly produces yellowtail fillet. Since the plant faces the Uwakai Sea having the fish-tank right in front of the plant, it makes it possible to preserve the fish as being live and fresh producing the fresh products.
We operate our plant under HACCP system for which we are certified by Japan Fishery Association to be able to provide higher-quality products. Moreover, we have installed cost-effective equipment such as vacuum packaging machine and sharp freezer to set up a work environment where we can operate safely and efficiently.